Now that Thanksgiving has come and gone, those of us who are excited for Christmas can really let our hair down. Christmas music is playing on the radio, Christmas festivities are starting up, such as
Christmas Town
at Busch Gardens. We went to Williamsburg and did a little shopping in support of Saturday for Small Business day and I bought these cute little guys at
Scotland House Ltd.
Then we stopped by
Shirley's Pewter Shop
to purchase our annual pewter ornament for the Christmas tree. And also added a couple of books for holiday reading.
Have you ever seen anything cuter! And this cute little game of Sheep Tic Tac Toe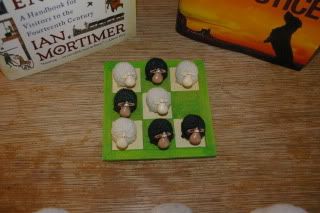 I have my Christmas decorations up and bringing cheer to the house. This year we have two trees, this is the first time I have used two trees, but the arrangement of our house prevents us from being able to show off the family tree, so I bought a small tree to put in the hubby's office window so that it can be seen from the street.
My trees usually have themes, the small tree is decorated with ornaments that once belonged to my grandmother and mother. The family tree is decorated with Santa's and in red and silver.
Small Tree:
Santa on family tree: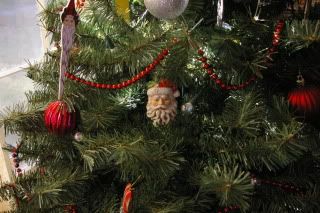 Special Santa's Helper:
The knitting continues in earnest.