In the on-going effort to improve and organize the Sheep Shack, the creative room here at Stitches and Stories I have a little before and after for you. First, the stash corner...
and the stash corner after before....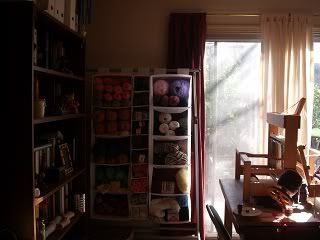 We took a road trip yesterday to Northern Virginia and I bought some cute little things for organization at Ikea. I bought some cool rugs too. But didn't think a picture of my floor would be very exciting or interesting.
I found lots of yarn I forgot I had and after squishing so much fiber, I want fore go the laundry chores and spend the rest of the day finishing up some projects, (two baby blankets, a hat and a sock) so that I can start some more projects with the yarn I found today!