We are snow bound in the house. Wait before you run off, thinking you've had and seen enough snow this year yourself, please consider this.....
Here at Stitches and Stories, this snow is an event because there is about 8 inches out there and we haven't had more than 2 inches at a time in 20 years! It started in the wee hours of Saturday and didn't stop until late Saturday night/Sunday morning. It is incredible, needless to say, there isn't much moving around here and no place to go even if you could move everything is closed.
It is so pretty and I love it. 1. we never get any "real" snow so this is a treat to me. 2. the lack of ability to leave the house promotes serious knitting time.
Rosie, (Some of you may remember Rosie if you've been following this blog from it's early days), our bulldog mascot is quite ill with kidney failure, so she is not enjoying the snow at all, but rather stays inside snuggling in bed. Lily, her basset hound sister on the hand, is actually enjoying it. (see pictures below)
In knitting news, babies! Two of my friends, (different friends in different parts of the world) are expecting babies, so the is a lot of wee knitting going on here. This weekend, baby blankets. Too soon to know if they are having boys or girls, so I am knitting two of everything in different color schemes (some neutral) and will wait and see, it will be fun.
We've had some new readers to the blog this week,so I'd like to give them a shout out and say welcome, hope you enjoyed your stay here and we would love to have you stop by again. Feel free to comment as well.
Here is Lily doing the "Happy Dance" on the snow covered patio....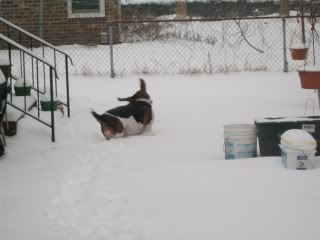 Lily enjoying the snow....
So stay warm and go have some fiber fun!