So I have done a little stash enhancement this week. I know, I didn't need more yarn, but that is never really the point now is it? On Thursday after work, I stopped by
Knitting Sisters
in Williamsburg and picked up one of the new fall colors from Mountain Colors, it is called Thunderstorm. And a new pair of sock blockers as I lost one of a pair. Now how do you lose just one sock blocker I have no idea but I did and have searched for months and can not find the thing. I bought metal ones this time, if I lose one I can borrow the DH's metal detector and find it again. I hope.
Then today I went to a local craft store they were having a bit of a sale and I picked up some yummy cotton and some Vanna's baby yarn, because you can never have too much baby yarn, right? Sort of like sock yarn.
Also in knitting news this week, we are progressing nicely with our KAL. I have finished the bottom portion of the Drop Stitch Tank Top and have started the bodice. A curious thing though. The bottom portion is stockinette stitch which has a tendency to curl, but mine was not, I was pleased and thought perhaps the weight of the yarn had something to do with this. But after I had reached the point of dropping the stitches and unraveling them down to the cast on edge, it is now starting to curl in true stockinette fashion. Bother!
The bodice is knit in a K1P1 ribbing, and it going along nicely.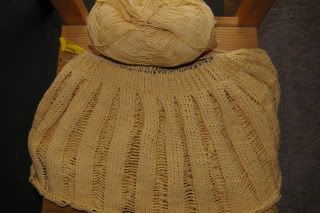 Happy Knitting Everyone!