Spring is upon us here at Stitches and Stories, the hosta are trying to poke theirs heads up our of the ground, birds are chirping wildly every morning and the temperatures are in the 70s this weekend. Time to enjoy a little time in the yard and prep the garden for planting.
I realize we are only half way through March and April can be a little "iffy" but the days are longer,nights aren't as cold and and I think we are definitely out of the woods for any more snow!
It really enlivens the creativity. And here is the latest creation....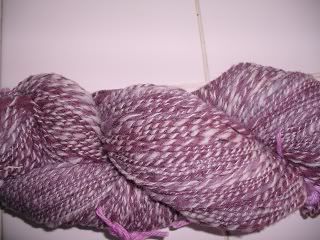 Purple and white handspun, 3ply. Hand dyed with kool aid. It is approx. 132 yards. I am working on plying some more so that I can offer them on the Etsy shop, I will let you know as soon as that happens.
Back to the wheel!