It is really hard to know where to begin.
First, let me let you in on something that is just fabulous....Annie Modesitt and her online classes. I just finished the February Combination knitting class and loved it. I had a great time and learned so much! And Annie is so talented and a great teacher as well. I thought learning a new stitch online might be a little tricky, but not at all! She has some other classes as well in March and April. So I encourage you to check it out. Sign up and let her know that you were referred by me, Milly. Here is the link:
Annie Modesitt's Online Classes
You can also clink the link on the right hand side my the page here and that will take you there as well. Again, just let her know how you found out about the classes, she gives a referral bonus to those students who have taken her class and then refer others. So sign up and refer your friends!
Second, as I have mentioned I have two friends who will be expecting little bundles of joy in the coming months and I have dedicated myself to ensuring they are the best dressed and outfitted babies when it comes to hand knits. I found out this week one of those friends is having a boy! How exciting! Bring on the blues, not that neutral colors aren't fun, but it is nice to having something an little gender specific. With that said, I finished a baby boy related item last night. But I do not want to post a picture and spoil the surprise for the mom and dad to be. So I will save all the pictures until they have been mailed and give you a baby slide show.
Third, went out in search of some yarn yesterday and found a very interesting knitting book I had never seen before. I don't know how I missed it but I have, so I am making up for it now. It has some great fun patterns in it! Toni Carr is terrific!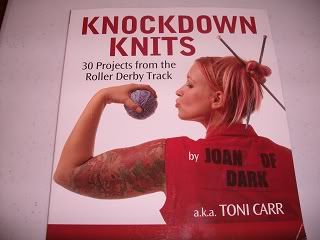 To that end it peaked my interest in Roller Derby, I remember watching it as a child and knew that it has or was making a come back but hadn't really followed it all that much. But after picking up this book yesterday I decided to google it. And I was amazed, comeback? No kidding! There are like 400 teams in the flat track league and one in my own back yard! I looked up the team's website and I'm excited to find to find a day when they are competing to go watch them! It looks like so much fun!
Dominion Derby Girls
You can check to see if there are teams in your area here:
Women's Flat Track Derby Association
And finally, my Nook, ebook reader. I am enjoying that so much! I wasn't sure at first, but now, I'm totally hooked, it is so much easier to read anywhere, without worrying about bending up your book in your purse or knitting bag, or having a really good but heavy book weigh you down just so you can enjoy it with your favorite coffee or tea at your local coffee shop. And I don't know about the other readers but with the Nook I can store pdfs of knitting patterns on it as well!
The sun is shining it is a beautiful day for some fiber fun!