It is hard to believe January is nearly over but so exciting that February and the Olympics especially the knitting Olympics are nearly here. Can't wait to see what everyone will be working on! Go
Knitting Sisters
team!
But we still have a little time in January left before we have to do our warms ups and here are some of mine. This knee sock is still on the needles.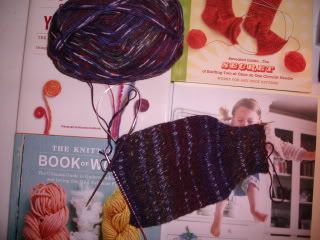 As well as this stained glass window pane scarf: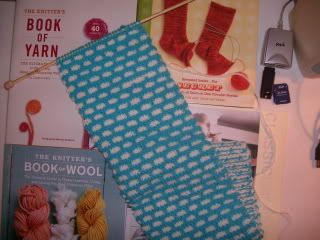 But I have finished these fabulous face cloths and have started more.
The weather is perfect for knitting this week, even if I am not. I have a severe migraine today, I don't get them this bad very often but boy when I do it certainly makes up for the infrequency. If any of you other fiber artist out there are suffering from this debilitating pain, you are not alone, in cyber knitting land!
But, it will pass the meds will work after a time and back to knitting!
And has anyone seen Julia & Julie well, perhaps the question is who hasn't seen it, but couldn't you just imagine if instead of cooking it was knitting instead? I mean honestly, instead of Julia Childs it could be Elizabeth Zimmerman, couldn't it?
Well, it was a good movie even if there wasn't any knitting taking place.
Try to have some fiber fun!