I wanted to wrap of a few things before 2009 came to an end. I can't believe it is nearly 2010. I don't know where the year went!
First, some end of year fun stuff,
NH Knitting Mama
is having a contest over on her site, you have to go check it out! You can also check out her online retail store and her Ravelry group, which is way cool and has KALs and other fun stuff for you!
So to close out 2009 I finally finished a pair of stocks I had to take a break from after frogging them completely.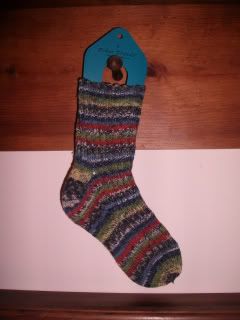 Then we have a scarf and hat set. I was trying to recreate a scarf pattern from memory and didn't get it quite right, but I think the results are better than the original, a totally reversible scarf and matching striped hat.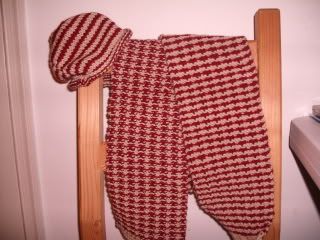 Plans for next year will include another attempt at knitting all my family members something for Christmas 2010. More charity work. I am still collecting hats for the homeless, and then I think I will do comfort shawls and blankets for cancer patients at the hospital. Your welcome to join me if you like.
And I think I will knit a few more things for myself this year.
I want to wish everyone a safe, healthy and joyous new year!
Lets go have some fiber fun!