Okay, I'm not feeling quite so lively at the moment. But I did get a few more things done today. I finally got the old sofa and ottoman out of here, freeing up much needed room in the studio. But, it is from from finished. I went and bought a new work table, a table that I am working from this very minute. I got the spinning wheel in here in it's rightful place. But I have another table that will be here next weekend along with two cabinets.
I did however manage to get these little fellows settled. Yes, the Sheep Shack is nearly complete!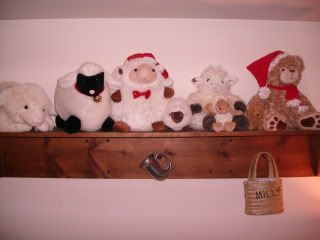 More work to do tomorrow, but I think this will do for today. I have knitting to be done!