The rest of the vacation was wonderful. I spent two days spinning, dying and plying some fall yarn.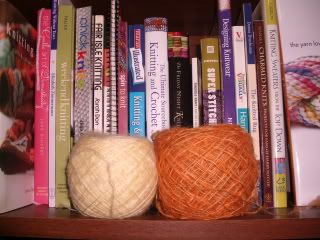 This is 70% Romney and 30% Mohair from a local farm owned by a dear friend of mine.
I then added some sock weight superwash to it that I had in my stash and made this:
I'm whipping up a fall scarf with it and it is turning out wonderfully so far.
We also spent some time working under our house in the crawl space laying down some thick plastic to help protect the house from dampness and humidity which is a big problem in our area. It was hard work when you have to do everything from a kneeling position and then still bent at the waste. But it will help keep our home more comfortable and that is a good thing. But boy, did I have some sore muscles after that! Good thing I got the spinning done before I went under the house!
And now it is back to work, but that means carpooling which equals more knitting time! Hooray!
Hope ya'll are having some fiber fun!