It has been a full weekend here at Stitches and Stories and not one minute of it involved anything fibery! How is that possible? I agree, it shouldn't be possible. My hubby even asked didn't I have any new stash to show you this weekend, and I don't.
We did have an employee appreciation day at the local Air and Space Center, again this year. It was quite fun, some of the exhibits are traveling so even though we saw the planes on display last year there were some new things to see. I saw my first ever 3D movie. I know I'm a little behind schedule probably. But usually the movies that are 3D are not usually the type of movies I enjoy. But this one was at IMAX and it was about all the creatures under the sea, it was very interesting and I love the 3D effect, looks like the fish are just going to swim over and kiss you!
My husband loves planes so we were looking at the static displays again and marveling at one of the WWII bomber planes. They have little video screens that play interview with the people where were in one way or another involved with the planes during the way. We were looking inside the cockpit of one and a gentleman walked up and started to tell us about the condition of this particular plane compared to others, we though "oh here is someone who really likes planes" Well it turns out the gentleman was more mature than he looked, he was actually a co-pilot on one of those very bomber planes during WWII in 1944-1945! He was a docent of the museum and we talked to him for quite some time. I am not a student of 20th century as a whole, I prefer the Middle Ages, but I will read to listen to the history of anything, I may have mentioned that once before, but anyway, this gentleman was fascinating. I could have sat and talked to him for hours. He could remember so many things and had such interesting stories to tell about places they had been. That 30 minute conversation really made our day.
We had other errands to run after our fun in the morning at the museum, more supplies for the re-decoration of my craft room and the den.
Our Golden Retriever/Chow, Molly, CGC, TDI, had to go to the doctor, all of her lymph nodes are swollen, the doctor says they are borderline, just a little larger than they should be, except for one that is larger than the rest. That is the one I noticed when I was grooming her on Thursday evening. So we are waiting for test results to see if we can tell what is causing this. I've very worried for her, she is 12 years old in March and you'd never know it. She is very energetic and loves to run and play.
The other girls, Rosie and Lily are not happy because they received their baths today and are showing their displeasure by ignoring me. That will last until I give them a cookie for being such brave girls in the bathtub.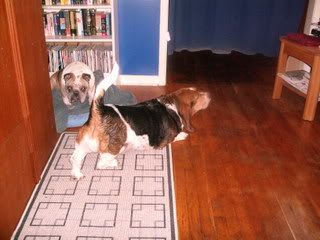 That is not the face of a happy bulldog, I can tell you that.
Not much has changed in knitting news. I haven't had a chance to work on the barn jacket this week. I'm hoping to work on it this evening. I have made progress one sock one of the next pair. But haven't had time to do much with them this weekend. Socks get more attention during the week when I'm commuting or at lunch.
Thank you for stopping by and happy knitting to all who knit. And if you are not a knitter then I wish you much happiness in that which brings you joy!