Still no snow here, but it is cold, so I am hopeful still. This weekend I attended a creative writing workshop by a local author
Joe Jackson
. I have always wanted to try one and see what they were like. It was really good. The teacher very entertaining and knowledgable. I am going to go to the follow up workshop next weekend as well. They are held at our local library and free, so it is very hard to resist.
Today, feeling creative on many levels, I am baking loaves of bread for the week, sweet bread and white bread. I finished a pair of socks and wrist warmers. And I have found another project to start. It is called Rosy Barn Jacket from the September 2006 issue of
Creative Knitting
. It meets all my criteria, not too complicated, and I have the yarn for it in my stash. It will be a Christmas gift for Christmas 2009. I can not of course say for whom, they might read it here and the surprise will be ruined.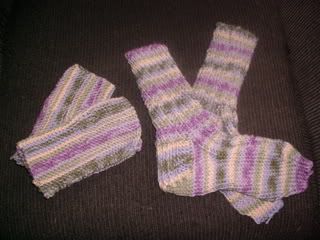 Also let me add that after several pairs of socks I can saw with some authority how much I dislike the kitchner stitch, I have used it on my last pair of socks! UG!
Abby over at
Baa Baa Blacksheep
isn't feeling well, so Rosie is sending her some healing drool. It doesn't look like it, but Rosie does her best healing drool when asleep.
I hope everyone is enjoying their weekend and having a restful Sunday, especially if you are like me and have to start the work week over again tomorrow.
Cheers!