....is apparently to see how far my sanity can be pushed before I have to be confined to a room with rubber knitting needles. Seriously, how is it possible that Christmas is essentially two weeks away and I am completely, utterly and totally unprepared? Me, the queen of turning the house into a winter wonderland that would make Santa kick the runners off his sleigh! One that any elf would be proud to live and work in. But this year, instead of a wreath on every door of the house, inside and out, instead of cute little Christmas soaps in the guest bath, with matching Christmas hand towels. I have a room that is half den/half fiber studio, a half empty bookcase waiting to be relocated to another room in the house, a weight bench waiting for a new home (Santa if your short a weight bench, stop by on your way out I can let you have this one for a song), bags of newly acquired yarn from an LYC that went out of business, (by bags I mean the big green ones you use to put your leaves in when raking the yard) I have wonderful cabinets, a table and a futon, in the garage waiting for the aforementioned bookcase and weight bench to be re homed so they can move in. I have Christmas cards scattered all over the table, gifts staring at me daring me to go another day without getting them in the mail.
How did all of this happen and so quickly? I feel like everything around me is moving at high speed and I'm standing on the side of the road with my eye closed!
Do you think the post office has an after Christmas sale for those of us who didn't get stuff mail before the holiday? hmm, perhaps not.
But I did get these finished since Thanksgiving....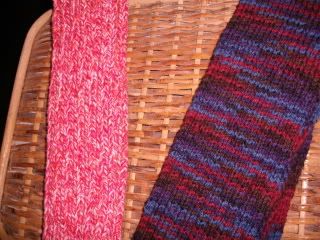 A scarf for my sister-in-law and the hubby.