I had my new fall scarf with the hand dyed yarns finished in time to wear for Halloween, too bad it was 80 degrees here. But, that is okay because in true coastal Virginia fashion it is only 57 here today with a strong breeze so there will be plenty of days to wear the scarf. I chose a lacey pattern for it, so that he could be worn more often than a heavy thick scarf (which will probably be next).
I wanted to be able to show it to you in a fun and creative way, keeping with the spirit of the day, but I had a very relunctant model.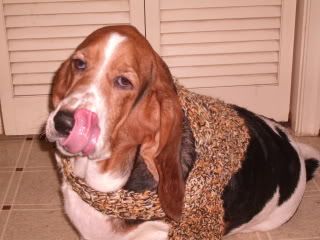 As you can see she is making her displeasure quite obvious.
So I gave up on the live super model idea.
Today will be a day for spinning.
Go have some fiber fun!