Recently they held the Knit, Place, Show event for knitters at Colonial Downs Race track in New Kent, Va. It was the first such event that paired knitters and harness racing, and it was a blast. There were door prizes and raffles from the various knitters' stores there; it was quite a good time. I actually didn't knit a stitch once inside. I was enjoying watching the races and I did make a wager or two, lost both times, but it was fun to try it.
But, plenty of knitting did get accomplished by my friend Connie; she finished her first hat and started another while watching the races. And my friend Anna, made great progress on a hooded scarf from the recent edition of Cast On.
We had quite a little group there and three of us were standing on the rail cheering on the winner of the second race, when the driver came over and offered us the chance to have our picture taken with the winner. We jumped at the chance, and have a lovely photo taken by the track photographer in the winner's circle with the winning horse and driver. Very nice man, they gave us a copy so we are having copies made and I'll post that soon.
And another exciting thing that happened was that a little girl probably about 12 years old, was there with the her family and kept coming over to watch Connie knit. She finally started asking questions and came a little closer, she told us she wanted to learn to knit to she could help people. I told her there were so many things she could do to help others with knitting if she wanted to and told her about the Preemie Project, the Prayer Shawl ministry and also told her she could come up with her own way as well, the possibilities were endless. She also said she wanted to knit socks for her and all her friends! The best part, was when her mom came over she promised the little girl she could take knitting classes if that is what she wanted to do. Wow how cool is that! I bet she does great things with her knitting.
Here is the latest hat from the Hatteras Hatters on a somewhat reluctant model. But she was a good sport!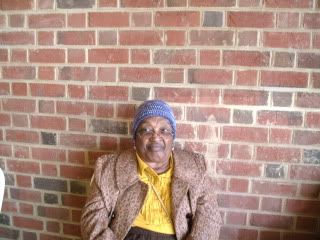 Go have some fiber fun!