What are some of your favorite fall projects? Do you like to create something in fall that you do not make any other time of year? Or do you change a favorite type of project to match the season? Like knitting socks, I always knit socks but in the fall I like to change the colorways to match my fall mood and the weight of the yarn I am using. I start knitting more sweaters and wintery kinds of things. How about you?
I love everything about fall. The vibrant colors, the reds, golds, yellows, and oranges. The brisk temperatures, the smell of hot apple cider, a wood fire, the sweetness of maple candy. The sight of roadside pumpkin patches, colorful mums, pumpkin spice lattes at the coffee shop, you just can't beat fall!
Of course, there are all sorts of fall festivals, everything from apple festivals to wine festivals. Not to mention a few fiber festivals as wells. But, there is more to fall than just fiber, I know it is hard to believe isn't it?
But, fall is football and tailgate parties, the World Series and trick or treating! Bobbing for apples, pumpkin carving and celebrating the harvest from the summer's hard work.
And speaking of pumpkin carving and bobbing for apples, look who came to visit me this morning.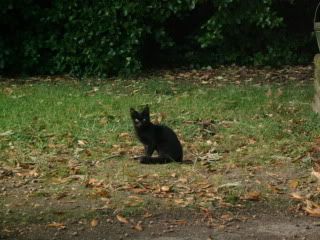 He or she is quite young, no collar. I have seen him around before but I don't know who he belongs to. He likes to hang out around our yard. He wouldn't come close enough for me to pet him but he wasn't complete afraid either. I hope he has a home and that they keep a better eye on him. Also, he isn't solid black, he has a white tummy!
Go have some fiber fun!