This year we expanded our garden to include more tomato plants, added cherry tomatoes, more bell peppers, zucchini, squash, string beans and cucumbers. But some how we also got this...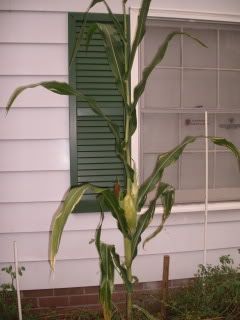 I believe a little birdy dropped a seed kernel in our cherry tomato patch and it grew!
It is feed corn, not anything you would want to eat, but it has produced three ears and I have shared it with my blogless friend Anna for her chickens and goats to feast on. Her chickens give us fresh eggs every week and her goats provide wonderful kid mohair!
I pay her for the eggs in tomatoes and other veggies we grew this year, it is a wonderful trade. And know we can pay the chickens directly.