You remember the industrious ladies of the Hatteras Hatters...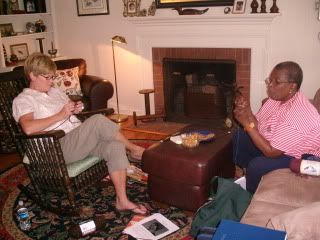 Well, here is the first hat!
Isn't it lovely! That is Martha's first ever hat, first time knitting in the round and first time using magic loop, rather than DPs. I think she did a wonderful job! And the best part is she is eager and ready to start another! Hooray a knitalochic is born. Martha is not new to knitting completely she has been making some seriously beautiful scarves for a while and decided they needed hat mates. I explained to her that all of the principles she has learn for her hat, the 2x ribbing the stockinette stitch, the decreases and the closure method at the top can all be applied to sock knitting. There the gusset of course, but that is easily learned now that she has all the other basics. I will convert her to a sock knitter yet!
Connie, is enjoying her scarf, and is moving right along. I think we will have some pictures to show you from Connie soon as well. Everyone is having a good time with their yarn and needles and that is the important thing.
Myself, well I have started yet another sock, I probably didn't have to tell you that, you already knew. But I am still at a loss for the wrap/shawl idea. I haven't found anything that really gets the mojo going. So this week, it is just socks.
The Entrelac socks in the August-October 2009 issue of Cast-on. I am using size 2 needles and Patons, Kroy Socks yarn colorway Flax.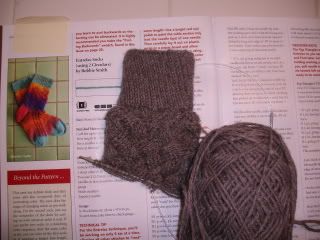 They are very enjoyable to knit and not at all difficult. The pattern is very easy to follow with help tips to help along the way.
Also, my dear friend
Amanda
is opening her on-line store, please go and visit her, she is still working on some areas, so please visit her often and check for updates.