The weekend is finally here. I am ready to conquer, but it is midnight and I cannot sleep. I took a little power nap around 10pm and now I am ready for the rest of the night, but alas, I am the only one. So here I am, hanging out in blogland.
It has been a really busy week. I've been weaving every night when I get home at least for an hour, my first sample is finally done. I will have pictures tomorrow of that. (too late to try to find the camera at the moment).
But I do have pictures from last weekends visit to the Mariners Museum.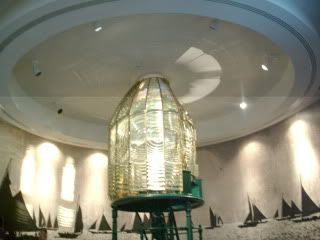 This is an actual light from a light house. There is a nice display and explanation of how things work.
A map from the 1500s, can you believe that! It has been well cared for and the artistry of the cartographers are amazing, especially when you consider the time frame when it was created.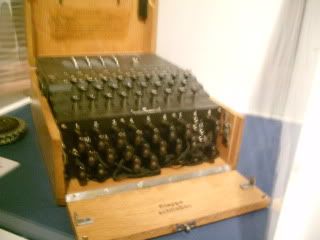 I took a picture of this just because you see or hear about it in old war movies and even a James Bond movie once, that is the German Enigma machine.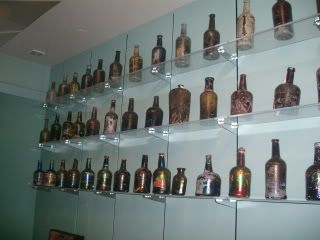 All of these bottles were found in the York River, from the 1700s, the time in the water and sand turned them into these fabulous colors, the picture does not do them justice.
There was very little fiber on this day but I did find this...
Wool suite worn by Admiral Byrd on his second trip to Antartica, there is a video of him trying to pet the penguins. The penguins were having none of it.
And this I thought was just freaky.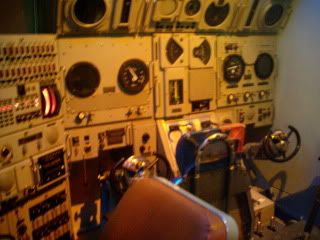 This is a display to show the inside of a submarine. My hubby loves war movies and submarine movies so I took this picture of the controls, the first picture was blurry, so I snapped a second one and that turn out fine. I have to tell you I didn't move or shake the camera in anyway. I took adjusted my position just a little bit and took a third picture.
I have no explanation. No other pictures had this problem. Just freaky.
The day was quite enjoyable, we have been there before and concentrated this time on just special areas we enjoy.
This week I also purchased a new ball winder, the Strauch Jumbo Ball Winder, my little red and white plastic ball winder has outlived it's usefulness and it was time for a serious upgrade.
This is a lovely well balanced piece of equipment and well worth every penny.
If you could only buy one ball winder, I recommend this one.
ball winder
I'm very excited to use this new baby!
I'm sensing a fun filled fiber weekend! I hope you are too!