Many others have commented on our freedoms today, and how thankful we should be, and they are right! We have a lot to be thankful for in this country and we have a lot of people to thank for it. The reason we have the freedom to celebrate today, in the fashion we choose, is because of our military. I know, we celebrate them on Memorial Day and Veterans Day, but today is just as imporant to thank them for keeping us all safe and free. And it is easy I think to say thank you to a large group of people that you do not know, but most of us know someone in the military or someone who has served so take a moment to thank them personally.
If my dad were here, I'd give him a big hug and thank him too!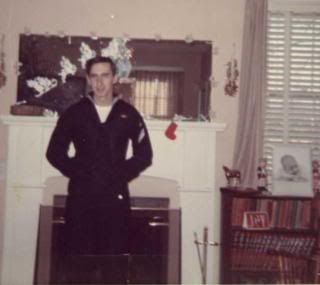 This picture was taken in 1967, in my grandmothers living room. This was taken when he came home on one of his leaves. He looks handsome in his navy uniform.
Wish you were here, dad.
Thank someone today for your freedoms and get out there and celebrate our countries birthday!