The Hatteras Hatters!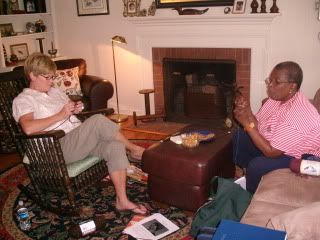 These wonderful ladies are my neighbors and we have decided to get together and learn a few new stitches and techniques. Martha wants to make hats to with her fabulous scarf collection. Connie has come back to knitting after being away for a number of years. I've offered to share what little knowledge in those areas I have.
We were accompanied by Memphis, a very handsome tabby and Daisy, a sweet yellow lab whose whole body just wiggles when she greets you!
Three and a half hours later, we were on our way to a new hat and a scarf and I have no idea where the time went!
Happy Knitting Ladies!