Is anyone else shocked that we are entering the last week of July? Where has the summer gone? I know it's not over yet, but holy cow! I feel like it just started. I haven't even had a little vacation trip yet this summer. I've hardly taken Purl out for a spin and she is getting lonely in the garage. But it is hard to bring home yarn stash on a motorcycle, it really is.
I do not feel like I am getting all the knitting done I wanted to but I don't know how I could fit more knitting into my day, well that is not true, if I quit my job I could knit all day but then wouldn't be able to buy anymore yarn, so you see the dilemma.
But I do have an FO to show you. One created out of necessity.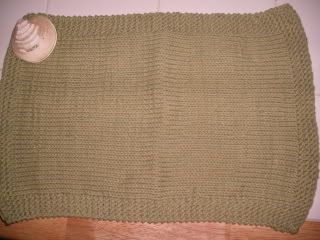 Look at is posing there shamelessly in an unblocked state, really!
I needed new placements and this cotton just looked like the perfect cool summer green. I'm on to the second one. This is my first foray into table items and it is simple and fun. I didn't know what I wanted at first but I came up with a quick down and dirty design.
Needle size: US 5
Yarn: Bernat 100% cotton 400g
Colorway: Country Green
Gauge: 5 stitches per inch/7 rows per inch
CO 48
~Slip the first stitch of each new row~
Rows 1-6 garter stitch (K 48)
Rows 2-90 Even Rows K48
Rows 3-91 Odd Rows K6, P36, K6
Rows 92-97 garter stitch (K 48)
BO
This cotton splits easily so be careful.
I have the second placement on the needles with plans for matching coasters.
It is a quick and easy project, very portable as well.
Still have a second sock to cast on for a mate for this one. I need to get a larger set of sock blockers.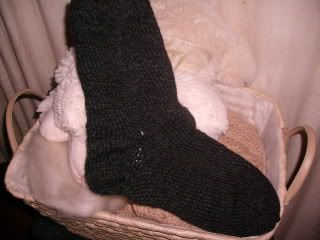 Until next time, Happy Knitting!