What does summer smell like?
Flowers, my favorites are petunias. They are such a happy flower.
Is it just me or do you not love the smell of tomato plants in the garden?! I'm not sure I'd want it as a perfume, but it is so nice on a warm evening when you walk through the garden and can smell them.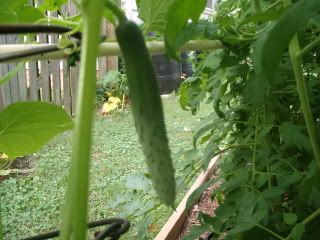 This little cucumber will smell wonderful once it has been harvested and sliced! Cucumbers in the store dream of smelling as fresh and wonderful as this little guy.
Sunshine itself! The smell of sheets or blankets dried on the line! Nothing can beat that at the end of the day!
Coming up....
Mexican Coke and FO's
Happy Knitting!