This has been such a busy week filled with all sorts of things. I am working on Christmas gifts this week because it will be here before you know it!
First, and you knew this was going to be here right? Socks!
Here's a close up.
These are so soft and yummy, the yarn is Cascade 100% Peruvian highland wool in Color Number 9404 (I think the ink is smugged) and Lot number 8768 it is a green/black blend.
They are being knit on size 4 circs. in men's size 10 with a ribbed cuff and stockinette stitch leg and foot.
Then is my first attempt at cables, I was so intimidated by them for so long they just "looked" difficult, well this is just a basic cable and so easy and fun I can't believe I haven't tried them before now! What was I thinking?! I have been missing out on all kinds of fun!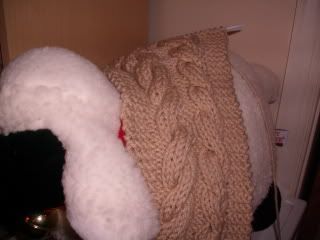 Naturally, that is a scarf, some people knit washcloths or other small items when trying a new pattern, I knit them into scarves.
I signed up for a summer reading club at the local library, anyone have any suggestions for summer reading fun? I tend to get into heavy historical types of books and while I enjoy them, they are not condusive to lighter possible fiction summer fun reading that I can read one a week. My favorite author doesn't have a new book out yet, so I am looking for new authors to try.
Happy Knitting and reading everyone!