"Once in a lifetime" (Talking Heads 1984)
Ever been somewhere see something unexpected and simple and it reminds you of when you were a child? Yep, me too!
I was in the dollar store in the mall grabbing something to drink the other day when I saw something that suddenly reminded me of bright sunny summer days of childhood.
Does anyone else remember these?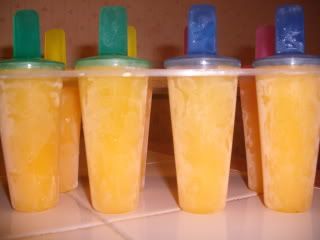 How much did you enjoy those, with the Tang dripping down your arm!
Well these gentle reader are orange juice pops that have kept up with the times, because these yummy little treats are for adults only! YUMO!
So as I sit on my patio enjoying this tasty treat and the sun is hot and there are white billowy clouds. It could easily be a summer day from childhood with something containing orange juice dripping down my arm, "same as it ever was."
With a quick toast to David Byrne, Happy Knitting y'all.