Hi,
I want to tell everyone that Knittinggin is having a contest for a beautiful bracelet she made, plus you have to see the necklaces she has made as well, totally awesome! Go here:
Knittinggin
Don't you just love how "green" everything is after a rain in the summer time? We had rain in one form or another everyday last week, some days it was serious storms others just a nice shower. Thursday was a nice shower near the end of the work day, so I snapped this picture while waiting for my carpool ride.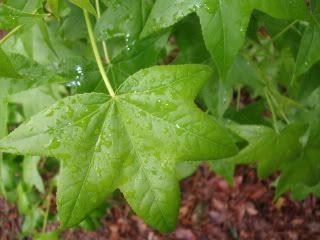 Everything is wet, green and in some cases muddy.
This little bowl of mud is actually brownie batter waiting to be baked into a nice yummy treat.
The weekend has been gorgeous and much gardening has been done. I'll post pictures tomorrow of the new garden trellis we built for the beans to run along. I think it is a pretty good job, and it is designed so that in the winter, we can put heavy plastic over it to extend the growing season.
For everyone celebrating this weekend, Happy Mother's Day!