Not to take anything away from any holiday, Memorial Day, Fourth of July, etc. And among the ceremonies, parades, cookouts and other celebration to pay respect for those for which the holiday is created (and rightly so) are sales!
Now, I am not normally one for going to big sale events in honor of a particular holiday, two reasons, I think the holiday should not be reduced to a mere commercial event, and second, I hate crowds and pushy sales people.
But this holiday is a little different. This past Thursday a co-workers son who spent 15 months in Iraq with a 15 man engineer unit embedded with an Iraq police unit, came to share his experiences with us. He had some very interesting pictures and even more interesting stories to share. He was only there 15 months but they were able to accomplish so much, he also received three purple hearts and one bronze star for actions during those fifteen months, because while he was an engineer and his job was to build schools and new infrastructure for the Iraqis with the Iraqis, he was also the gunner on their Humvee.
It was a fascinating reminder of the work our military is doing around the world and the sacrifices they and their families are making.
So please take a moment to remember them before you rush out to that big sale this weekend.
So with that being said, I paid my respect to this soldier and his wife after the presentation on Thursday.
And Saturday, I went to a Memorial Day Sale at
Knitting Sisters
and purchased these: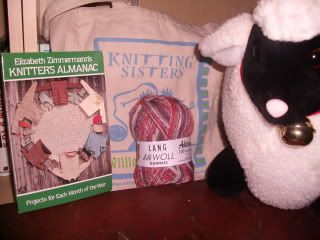 Close up of yummy sock yarn:
Enjoy the holiday and please remember it's true meaning.