We are still working on getting the garden started this year. We are in a mad dash because we are starting to get behind the curve. Last weekend we built another garden box with a trellis.
The trellis will act as a frame in the winter, which we will cover with heavy plastic to convert to a mini green house. But this summer it will be home to pole beans, peas and zucchini.
These should be happy dinner companions with the tomatoes, squash and bell peppers already taking up residence in the other two garden boxes.
Now the shade garden is a different matter all together. They are already going rogue over there under the oak tree at the end of the patio. They are having a huge party all week long to welcome the new hosta that relocated from next door. The zinnias with their colorful party hats are keeping the party going. The garden gnomes are trying to keep order but the petunias are running around getting into everything. I think I heard them singing this morning when I let the dogs out, it sounded something like:
"Shade Gard-en part-y part-y"
"Shade Gard-en part-y part-y"
And I think the petunias broke into a chorus of scat. "scoobie de doop. Scoobie de doop part-y part-y"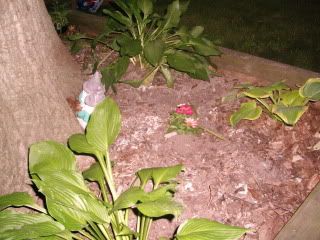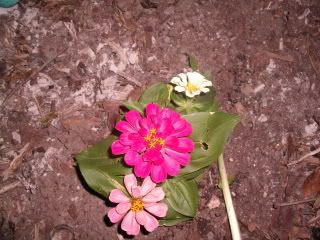 I don't think we are going to be able to rent out the frog house until things calm down in there.
The Knitting Basket
I left the house today without knitting today on purpose! I feel like I left a part of me at home. It is like those terrible dreams where you're standing in front of a large group of people and realize you're not wearing pants, that is what it feels like to leave all you're knitting at home.
But I didn't carpool this morning so I did not arrive to work early, so no knitting time this morning. At lunch I plan to get my hair cut, no knitting time there, and after work there is a work related function, that includes a tour of a new sports complex and a BBQ so no knitting can be done there. Then it is straight home, where my knitting waits for me.
The knitting in question is the sweater that has been ripped to within an inch of its nonconforming life, and reincarnated into an EZ raglan sweater. Thankfully the yarn is very forgiving. And then there is the ever present sock project; which I cannot go into detail just yet. Suffice it to say it is a gift.
Both are at home at this very moment plotting their revenge, I just know it. They are unknitting themselves into some sort of dropped stitch fiasco that they will hide from me until I am nearly finished with them and they will stick that little dropped stitch out like a tongue and taunt me.
All of this is happening at the same time I am running the risk of a bulldog or basset hound becoming curious and sniffing out the wool fumes and drooling all over the knitting basket and its glorious contents.
If I could only teach them to knit instead of sit up and beg...
oh well.
Happy Knitting!