Today I went to the 3rd annual spin-in sponsored by
Colonial Fiber Arts
it was at the Riverwalk in Yorktown. We had this nice little courtyard with tents set up at first to protect us from the light rain in the morning and the sun in the afternoon. There were wheels of all types, and some very very talented spinners. Kromski was well represented with a Minstrel and a Mazurka. There was my Ashford Kiwi and a Traditional, a Frick and a couple of others I didn't identify. There was even an Indian Charka wheel. And a few drop spindles.
I only had a minor mishap getting started as usual, I went to lift the wheel off my little hand truck and knocked the bobbin shaft and all off. Then I put it back together I didn't have the whorl on all the way and didn't realize it and with the first push on the treadle, the wheel basically exploded, whorl, bobbin, tension went flying. Needless to say, the desire for a huge wave to come from the river and drag me out was overwhelming. I hadn't met any of the other spinners before, they clearly were much more experienced than I as not one of them had a wheel in five pieces on the ground.
But somehow I managed to pull myself from the depths of embarrassment and get it going again. After a while I did manage to spin something that didn't look like rope and even kept my wheel from exploding. Some of the other spinners wondered over to chat. I began to feel a little better, very nice lady,
Cathy
, has a beautiful Kromiski Mazurka that has a blue stain finish on it, and it is gorgeous!
Let me tell you there are some very talented people there and I felt so inspired when I left. I learned quite a bit today from those other ladies and made some new friends.
We all received a swag bag with 1 ounce treasures inside: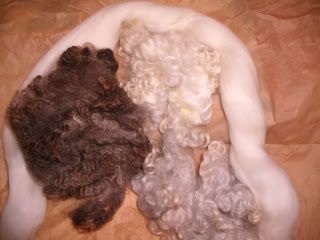 One of the fun things at the Spin-In, is that there is a fiber challenge, each person who wants to participate receives 2 ounces of washed, dyed and uncarded wool to do with what we will. The entries will be judged the entire month of June and winners announced on July 4th.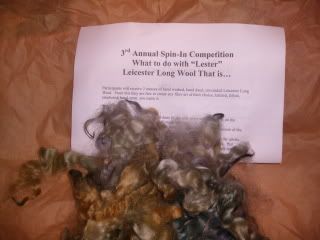 I also bought myself a new pretty little drop spindle:
We all had a wonderful time, and I learned so much and was so inspired by those talented ladies, I am going to sign off here and go get back on my wheel!