It has been a week of ups and downs here. We found out this week that our Golden Retriever, Molly has Lymphoma, it is pretty far along. She is elderly and of a breed prone to such illnesses. When I found the lymph node on her leg, I was afraid that it might be something serious. We took her to our vet right away and he had the results for us the next business day. It confirmed my worst fears.
We know our time together is limited and we are trying to make sure we do not waste a moment or opportunity.
When I am stressed I have to stay busy wear off the excess energy I suppose, so I finished one pair of socks and started and completed one of a pair this weekend. When under stress, knit.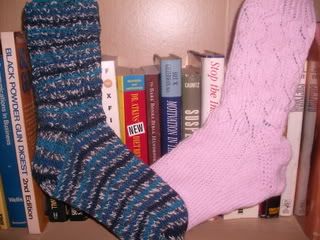 The sock on the left is one of a completed pair. The leg is a scrolled ribbing pattern. The one on the right is a crosshatch lace pattern on the leg. I have cast on it's mate tonight I have completed the cuff and starting the leg pattern. I'm knitting from the top down. I should have the mate done in a couple of days. Work will be interrupting my kntting time once again tomorrow. Unless I have a little bit of luck.
It has been raining steady all weekend. Tonight it will drop into the 20s and it will all freeze the rain is supposed to turn to snow. With just a little luck they will close our office tomorrow and we can have a three day weekend. Keep your fingers crossed on that one.
I hope everyone is staying warm I know down south got hit with a lot of snow. Stay warm and dry, knit a little something and if you have a pet give them an extra hug.