I had planned a mid-week round up post this week on Wednesday, but by the time I sat down to my computer, I was shocked to realize it was already Sunday and we have gone through extremes this week. In a way I suppose it is good that I have been forced to wait until today to touch base with you. Because without it the subject would be quite different.
It would have been about my almost uncontrollable ability to gravitate to the underdog in nearly every situation. For example, last weekend it was cold and it rain hard both Saturday and Sunday. And then Sunday night things got interesting they was sleet then snow. the snow, I had been hoping for all winter I awoke early Monday morning and rushed to the T.V. knowing I would see my employers name at the bottom of the screen giving me that gift of a three day weekend, I was wrong, we only got an extra three hours. But, as usual talk at work was about the weather and how pretty the snow was, and they were right it was pretty and as I stood at my office window and looked up to watch the snow fall as if I were part of a snow globe, I realized, snow gets all the glory. It white and pure, it can be shaped into balls of fun or a snowman. But icicles never seem to get the attention they deserve.
And you know icicles are just as unique as snow flakes but noone seems to notice. So here is my small tribute to the icicles that graced our house for a couple of days this past week.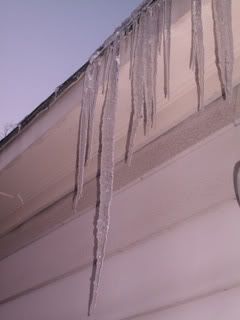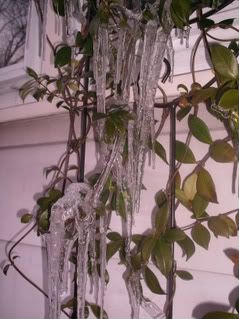 The pictures do not do them justice, they were so pretty. And stayed around for days, showing a greater commitment than did the snow.
The last faithful icicle disappeard Wednesday, and just a few days later on Saturday it was a beautiful sunny 77 degrees here, and today will be even warmer, the Easter Lilies are blooming, Lily and I met several people out yesterday enjoying the sunshine as we enjoyed our walk.
Extremes in knitting this week would be the fact that I have cast on another pair of socks and I am not quite finished with the last of the pretty in pink ones from last week. I do have plans to finish it today, though. Then I will have to concentrate more on the jacket, the poor thing is just laying there being neglected.
I hope everyone is having good weather this weekend! Happy Knitting...