Dear Reader,
I apologize for the lack of posts last week, but the wait will be worth it I promise. It has been very exciting since my last post. It was sad to see the holidays leave us, it seems as if they were too short and passed by too quickly. But, now that the decoractions and gifts are put away, I have a nice little home in my craft room for the loom.
Front view: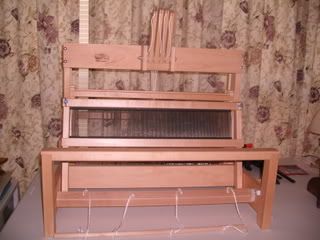 Side view: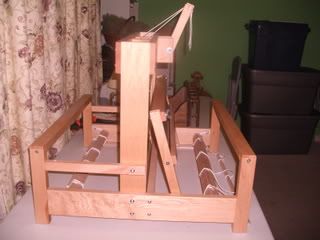 I haven't warped it yet, but I plan to perhaps tomorrow! So exciting I can't wait.
I also finished my first commissioned work. A gentleman at work admired my knitted socks one day when I was showing them off by wearing clogs. He asked it I could make some thick ones that would come up above the top of his hunting boots. I said sure. I selected a variety of yarns for him to choose from and he went with a romney wool, from a friend of mine's sheep, that she sheared and spun herself. I offered to dye the yarn for him, but he preferred them in their natural white. I delivered them to him last week and he is thrilled. In my excitment of getting them done and having him try them on to make sure they fit I forgot to take pictures! I used EZ's instructions for knee high socks, the pattern was simple ribbing top with the rest being stockinette stitch. I also like to use the Eye of Partidge for the heel.
I also found online a very nice local farm that raises Southdown Babydolls and Cashmere goats. I ordered 5 lbs of the dark and 5 lbs of the white babydoll roving and it came on Monday. I guess you really don't appreciate how much 5 lbs of roving is until you see it sitting in your livingroom.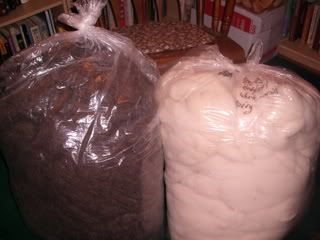 Here is a close up of the yummy fibery goodness!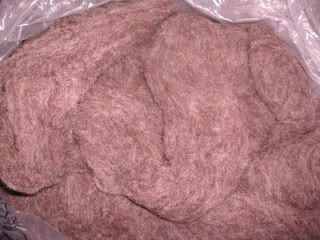 I can't begin to tell you how excited I am to start spinning this up!
I ordered it from
Silver Branch Farm
If you need roving this is the place, Lisa is very very nice and so accomodating. They are only a couple hours away but because of the holidays and schedules I just couldn't drive up there as much as I would have liked to. She has 5 lbs of the dark left and if anyone is interested in more or in the white just let her know. Because that will give her an indication of how much she needs to have processed into roving. She also has a few of her precious sheep and goats for sale if you are looking to add some yarn on the hoof to your home.
I highly recommend them. I had heard from some people that the babydolls roving was more difficult to spin. Lisa sent me samples of the white and the dark and a friend of mine and I did a test spin and had no complaints what-so-ever.
And even more exciting if you can believe there is anything more exciting than roving and a new loom! I recently was able to get back in touch with a dear dear cousin of mine. We lost touch several years ago and she lives in the mid-west, and I am on the east coast, but we found each other again and had the best time talking on the phone. It was really like we had never lost touch, except we had a little catching up to do. I was so happy to hear her voice again.
I hope that everyone is having an equally great start to the new year!
Happy Knitting!