Brrrr....it has been very cold here by our standards this week, highs in the 20s, lows in the teens. We have had snow flurries twice but they were only just that. This afternoon, it warmed up to 38 and rained naturally. We have a three day weekend this week and I am hoping that the snow flurries come back Monday night and bring friends. I would love nothing more than to not have to go back to work on Tuesday. This weekend has been so productive I hate for it to end.
We have decided we will not be moving anytime soon, so time to do some things around here. Today we started by re-arranging some rooms. The den is quite large for just two people to watch tv in. The dining room is really not laid out very well, if you put a table in it to accommodate guests it has to sit in the very middle of the room. The problem there is the room has three doors so you are constantly having to walk around the table and it is more often than not in the way. So..... We made the dining room the TV room, the den will be a game room/library with a table or bar of some kind. So we moved bookcases and the sofa and chairs and tables and rugs and more tables. But it is nice an cozy now and we have more natural light in the "new" den for reading and knitting. The old den had no windows and only a sliding door so very little natural light.
So very happy about the new changes. I even re-arranged the HAM shack to make it neater and more organized and easier to use the radio and the computer when DXing.
In knitting news, I should have another pair of socks completed by tomorrow. And as soon as the batteries charge up on the camera I can show you a picture. I do have a picture for you today though. It is of a sock I finished around Christmas time. I call it the Santa's helper sock. They are nice and toasty warm this weekend with all this cold air.
And the girls love the cold weather and snow, well Molly does anyway, Rosie will not leave the comfort of a soft, warm squishy place to snuggle. So here are a few pics of the last time they got to play in it.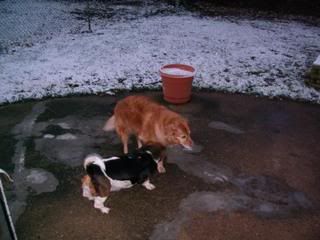 I know that is not very exciting for some of you further north and in the mid-west but that was our big snow last year. It has been about four years since we have had anything of consequence around here. I'm hoping this year will be different.
Well, until tomorrow...happy knitting, spinning, weaving, reading etc.