As promised I have a picture of the second pair of hiking socks. These were made for hubby who is a reluctant model so I had to use the sock blockers.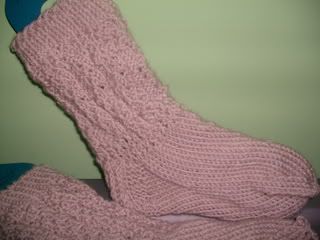 And have cast on a pair for a friend, she lives in the north east and I know she is very cold this week so I decided on some warm spring colors to keep her little feets warm.
The colorway is called watercolors. And I am using a 1x1 ribbing on the cuff and then decorative ribbing on the leg.
They are knitting up very quickly and I should have then done in a few days.
We have no snow yet today but the weather people keep saying there is a good chance we will get some tonight. Oh one can only hope.
Stay warm everyone!