It seems impossible but it is nearly the weekend, halloween and the end of October all at once. The holidays will be upon us in a matter of weeks. But, lets not think about that right now.
Things are still busy here with attempting to sell our home and buy a little sheep farm for Stitches and Stories.
I have been corresponding with a very nice lady, Lisa at
Silver Branch Farm
here in Virgnia. She has graciously offered all kinds of information and samples from her Babydoll Southdowns. Which is my sheep of choice for the size and low maintenance.
There seems to be some dispute with spinners out there as to the quality of the wool from these adorable little creatures and I'm not sure why. They are graded at 55-60, their micron count is 19 which puts in the realm of cashmere, the only thing I can think of is because the staple is only 2 inches. But I don't think it is unworkable.
I have some sample coming my way this week and will examine them. But, if there are other spinners out there with experience with wool from Babydoll's please let me know your thoughts and opinions on the matter.
Here is one of the places we have been looking at, it has a barn, another outbuilding we would convert to a chicken coop, a large garage and a cute cottage.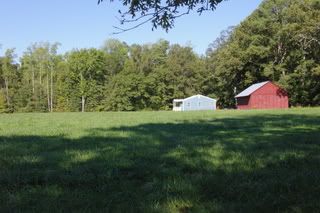 It sure would be nice to have a new house for Christmas, wouldn't it?
In knitting news, I am half way through the second sock in a pair and have had a request from a co-worker to make him some red warm socks he can wear while hunting.
Anyone have any thoughts on a good wool or wool blend yarn in red for socks? I am searching around, for some to give him a cost estimate.
I hope everyone is looking forward to the weekend as much as I am. One last interview with a listing agent and we could have this baby on the market this weekend! Woot!
Happy Knitting!