I don't know where to begin. First of all is this summer just flying by or what? I can't hardly keep up.
Yesterday was a totally fun girls day. I met my friend Anna at
Colonial Fiber Arts
for a spin in. Every Sunday is spinning Sunday and anyone who wants just tramples on in with their wheel and you just hang out and spin. I learned so much in the two hours we were there from the other spinners it was amazing. Nettie (owner) and Anna were both spinning mohair, Natalie was plying around crochet thread making a speciality yarn, that was just gorgeous. And I was spinning Coopworth wool. So soft and chocolaty. Nettie got the kinks worked out with my wheel and the user and we are in spinning business now!
Here are the ladies: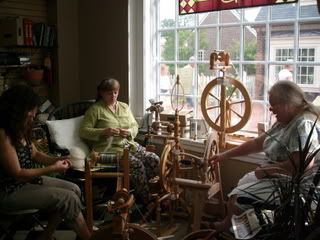 Then afterwards I followed Anna over to her farm to help with her horse and donkey. She has a lovely place built in 1830! Just picture postcard beatiful!
So I got to meet her Romney sheep, her Angora goats and her Alpaca in addition to the horse and donkey. I stayed way later than I thought I would, but we had such a good time! And her husband is just one of the nicest people ever!
I hope to have some good pictures of my spun coopworth for you soon.
And one more surprise coming, but I can't tell you just yet, maybe tomorrow.
until then Happy Knitting.