Well I went back to my dentist this morning because I am just tired of being in pain and apparently I am going to live. So far he has never lost a patient from wisdom tooth extraction even all four at once. He did feel the need to remind me that I was not 20 and therefore the healing process was slower. I really felt like testing that theory on his nose, because everyone person I have spoken to when ask how I'm doing and I say I still have what I feel is too much pain they respond with "...well you know it's different when your twenty" Thanks for that little tip.
So since have neglected you dear readers, I will try to make up for it with some pictures and FOs! Hoooray! Who doesn't love FO's on a Friday!
So here is the Big Easy Vest I made for hubby in size...too small.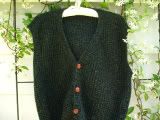 Here are the socks for hubby, basic top down pattern with 1 x 1 ribbing.
The plants are still small in the vegetable garden but the flowers are growing, here is a rose that is called blue rose, but due to the Ph level in my soil it is not so blue.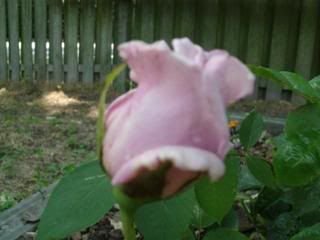 Here are some lilies and geraniums:
And today it is going to be warm so what better treat than a strawberry, kiwi, watermelon slushy!
Hope everyone is planning a wonderful weekend!
Happy Knitting.