It has been a wonderful warm spring week! It has been in the low to mid 70s and Friday it was 80! It was nearly impossible to stay in my office! I had the window open though and that is nice. But also serves to make me want to be outside more. I have started my spring cleaning and everything feels new. To that end I worked on the wallpaper in the guest bath, progress is being made but I really need to dedicate a weekend to that and finish it up.
So with all this warm weather it is a hard reality this morning when I got up and it was sleeting! It was cold yesterday and a little rainy but the afternoon cleared up and it wasn't that bad. But today is just depressing. Winter making one last grab before letting spring in here.
So I am nearing completion on a couple of projects, I can see the light at the end of the tunnel, and this morning I am checking my sock measurements for oh I don't know the millionth time and now that I have checked the foot measurements, put it on my foot and used the tape measure, I turned the heel, checked measurements again, completed the gussets, the foot looked short now, but I checked measurements came out to the required 6 inches and started the leg pattern again. Yesterday was comparing notes and project progress with a co-worker and she said that foot looks short, and I said, "I know I thought so too, but it comes out each time I measure it and I even put it on my foot" she nodded in agreement that seemed like reasonable checks to ensure proper length and fit. "Must be the stripes that make it look short" we agreed. So I knitted on it some more last night and again this morning, but my co-workers voice kept ringing in my ears so I closed my office door, (don't want the rest of the office thinking I'm any crazier than they already think that I am) and took off my shoe and sock and put sock in progress on, and guess what, too short! Now, I'm not sure what the heck happened here but I measured it and put it on again, held it up to the first sock and guess freaking what? The foot is now an inch shorter! So I sat at my desk, contemplating when exactly one of my knitting friends would have been able to sneak into my office and unravel my sock and put the heel and gussets back in while I was say… in the ladies room, which is about the only time my knitting bag is unattended. I decided that is ridiculous that isn't enough time to prank on my sock so the only logical explanation I could some up with is that Lily, yes sweet little Lily whose has a history of sock and yarn theft, most have stolen it from my knitting bag, which is left unattended more than it should be at home and unraveled it. My hubby wishing to save her from certain dire consequences put the heel and gussets back in thinking I would never know! Ha, I'm on to you two! And the consequences for my having to rip these gussets and heel back out is going to be severe, oh yes, severe! I'm think there will be no liver treats in the middle of the night and no homemade bread baking this weekend as punishment for your crime!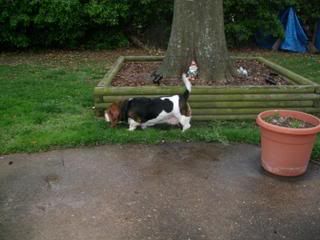 I've not been able to detect any foul play with the dog sleeper, and I plan to have that finished soon. I'm thinking of installing a knitty cam in my knitting bag to insure the safety of my precious projects!
The research continues into suitable farm property and which sheep I want to raise. I'm leaning towards Icelandics at the moment. Or possibly Leicester Longwools.
Merinos would not do well there in our climate, they are too dense and it is too humid here. They would be suseptible to fly strikes with that combination. So the search continues.
To that end, we decided to drive over to Gloucester today to have a look around. And enjoyed ourselves greatly. We found a nice little Italian place to have an early dinner and we did a little shopping at Ollie's outlet, they had sock yarn for $1.99, so I had to get a little bit.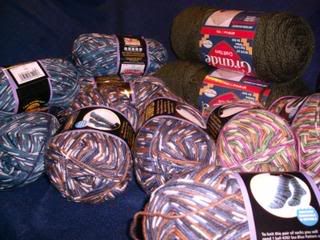 I also stopped by JoAnn Fabrics on the way out yesterday. I have never been in there before and it is funny because it is just down the road a little, but I just never seem to go past the little shopping center it is in. I always manage to be going somewhere that I take another street before I get that far up. So I was looking for something specific and I decided to see if they had it. They didn't, but they were having a yarn sale so I thought well that is work a look so I walked up and down the yarn aisles and they had the yarn I am using for the sleepers on sale only $5 for 1,20 yards, so I bought four, pink, white, blue and turquoise. The lighting doesn't really do it justice. They are bright springy colors.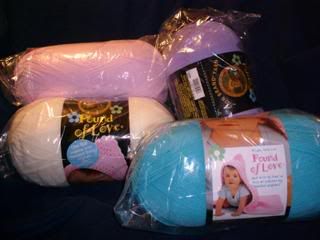 And speaking of yarn sales, I got a notice that
Colonial Fiber Arts
had some new bamboo in. so we drove over there on our way across the bridge to Gloucester and spent some time with the owner, she is one of the most knowledgeable people I have ever met on any number of topics but especially, spinning, weaving and knitting. I have been having some trouble with my Ashford wheel and the tension. She offered me an alternative to the braking system. I am still having a little problem but it is certainly improved over the way it was. But I am still frustrated with it and gave up today after trying again. It seems that either the spool is turning too much or jerking the roving out of my hands and I can't seem to find an in-between. But I can't reason out a solution when I am this frustrated so the only thing to do is take a break and play with the fabulous purchases I got at CFA yesterday.
Yummy! Xie bamboo fiber from
South West Trading Co.
I bought #457 Brown (but it is very coppery in the sunlight) I love it! #475 silver and #491 which is a yellow with hints of green. It is all laceweight. I also bought two cones of Valley Cotton 8/2 Mercerized in Silver Gray.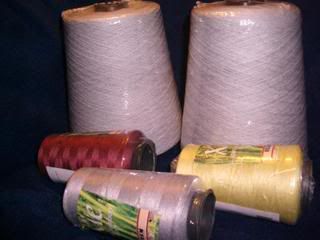 So all together I bought 21 balls/cones of yarn yesterday! Holy Cow! But I have projects in mind for all of them.
Happy Knitting.