I love December and Christmas and the happy feeling it brings. I wish it would last all year. The only thing I wish we had a little more of, was snow at Christmas, but snow any time is rare here and especially in December. It is never quite cold enough yet.
I love decorating for Christmas, I love all the lights on the tree. This year I put "all" the ornaments on there, I usually have themes, but there is the theme I guess you could say was Christmas, Past and Present. I have some wonderful glass ornaments that belonged to my grandmother, I have several that belonged to my mother and some handmade ones as well. Then I have the ornaments I have either collected or friend have so kindly given to me. (I have a thing for pewter ornaments) Well this year they all went on the tree every single one. I and thing it is a fabulous tree this year. It was fun remembering the stories behind each ornament as I unwrapped it, or the memories it brought back of years past decorating the tree with my mom.
Wonderful times.
Here is the night time version: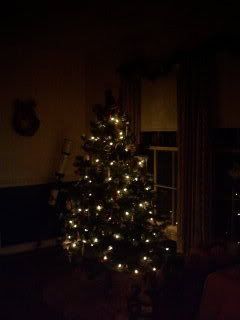 Day time: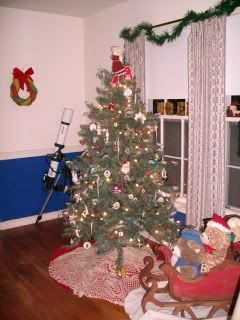 Here is a great photo, the bell is the foreground was my grandmothers, the little round ornament behind it my mother made.
Here is an example of one of my pewter ornaments. My goal is to one day have the whole tree decorated in nothing but pewter ornaments.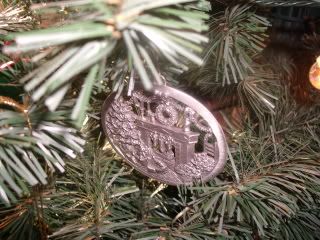 Yesterday we went out for a little while to pick up just some minor necessities and it was fun to be able to go out and not be in a rush or panic for last minute gifts. We rather enjoyed ourselves. We stopped off for dinner on the way home, the resteraunt was packed, but our waitress was patient and kind and just wonderful. It is so refreshing to have a good waitperson these days, when they are busy and probably harassed by tired shoppers. I made sure her manager knew how terrific we thought she was.
While we were out we stopped by
Colonial Fiber Arts
and we picked out a tabletop loom! I am going to go back on Monday and pay for it! I'm so excited! I will post pictures as soon as I bring it home. It comes with 5 free lessons! I can't wait!
And then we had a Secret Santa exchange with a group of basset hound owners and my SS Pal gave me some wonderful treats including wine, but my favorite was hand etched wine glasses!
I also have my first "paid" knitting job. I am knitting a pair of hunting socks for a gentleman at work and they are coming along very nicely. The yarn is 100% romney, natural white, sheered and spun by my blogless friend Anna. I am half way through the second sock. I am following EZ's instructions for increasing for knee high socks, as this gentleman wants the socks to come above the top of his hunting boots. He tried on the first sock and it fit perfectly. I hope to have them finished by Christmas.
I have to work this week until Christmas Eve and then again the day after Christmas, so if I don't have a chance to post before then, Merry Christmas dear readers!