What do you get when you mix several parts, book with one part cheesecake and one part wine?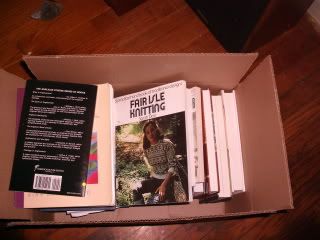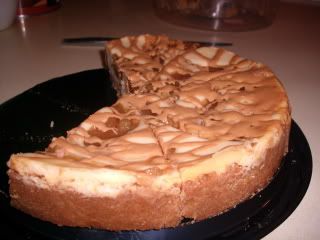 A warm and cozy weekend! I am recovering from a nasty virus, which would explain my blog absence, I haven't even been able to knit! I did feel the need for some fresh air yesterday so I went to a book sale at our local library and we picked up a few books. As you can see by the picture one is on Fair Isle knitting that I snagged for $.50!
Then starting to feel a little worn out by all the excitement of bargain book shopping I was in need of restoration. So we stopped by the wine store and the farmers market where I picked up a few bottles of wine and an apple carmel cheesecake. The medicinal powers of cheesecake are highly underrated!
We then came home, built a cozy fire, watched a Christmas movie and proceeded to enjoy the days bounty!
I also plan to put up our Christmas tree today. I haven't had the energy to do it this past week.
Also some have you asked about my mission to rescue Boston, let me give you a quick up date. I had a nice trip down to meet him and was able to spend some wonderful time with friends, but Boston made it clear he had no interest in me or moving to Virginia, so we decided it best he stay there, he is getting lots of attention and some new training and is probably a much happier boy. It just wasn't meant to be.
Now dear reader I am off to make way for the tree and unwrap ornaments old and new!
Happy Knitting