So today was a wonderful day to go in search of some stash enhancement. I had to go to the market anyway and wouldn't you know there is a craft store right there!
It was one of those large strip malls, with acres of parking and everything from resteraunts to the dollar store there.
So armed with my reuseable canvas shopping bags and a check book, I found a central parking place. As soon as I got out of the car I could smell it. It was in the air so thick like someone burning leaves, yes it was the smell of yarn on sale!
I dashed through the parking lot, dodging little old ladies, men in walkers, soccer moms out shopping before school let out, and ran into the craft store. And yes, all yarn 20% off! Well it just so happens that I need to knit up some slippers and hunting socks, so this was a very happy event.
They also had these cute little ceramic loaf pans painted for the season and I thought wouldn't they make cute candy dishes at work? And on sale for only $1?! Must have one or two.
So on my way back to the car to deposit my new stash enhancement, I passed the dollar store, with their Christmas goodies out, well who can resist Christmas even if we haven't gotten to Thanksgiving yet? I mean even one of the local radio stations is already playing Christmas music 24/7, so I pop and find adorable wine bottle socks, which I am going to need as I have some wine to give as gifts this year.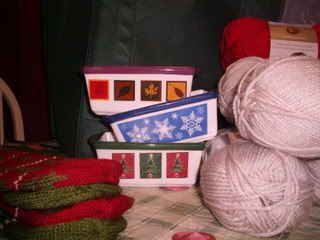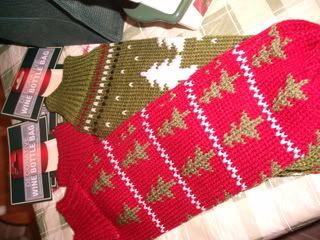 What a perfect afternoon!
Now time to warm up with some chili and watch a movie. Oh and perhaps a little knitting too!