Dear Friend and Reader,
I hope you had a joyous Thanksgiving. Our family is small but we have a lot of fun. It is however, growing every year. This year we welcomed baby Morgan to her first Thanksgiving. She is the second daughter of my cousin. She is one of the happiest babies i have ever seen. She smiled and laughed at everything and everyone. She almost went to sleep in my lap once but decided there was too much going on and she wanted in on the action. She is only 7 months old and never blinked. I bet she slept well last night I'm sure much to her mothers relief.
My great aunt was able to join us again this year which was a special treat to see her twice in one year!
She and my aunt were surrounded by the children...
The kids also enjoyed a holiday treat...
Today was a day to relax and enjoy not shopping.
We raked leaves in the yard and afterwards we built a nice fire in the fireplace and I enjoyed some movies.
Mom Im tired can we nap in front of the fire?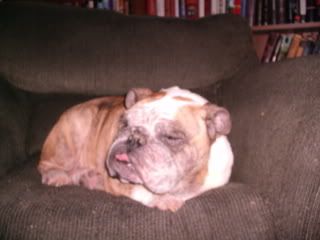 Raking leaves is hard work.
I finished the shawl I am going to call it Cherry Cordial Shawl I will have pictures and pattern details tomorrow.
Stay Tuned...