I finally have some pictures to share with you. Having put the troublesome socks aside for the time being. I made a winter set, hat, scarf, and wrist warmers. And started on a shawl.
The yarn for the winter set, was from a long ago frogged project and I know it is Carron, but I have lost the tag for it so I don't have any other information about the yarn to share with you.
The hat is just your basic hat design, 1x1 ribbing and then stockinette stitch. The wrist warmers are from Weekend Knitting by Melanie Falick, as well as the scarf, which is the lopi lace pattern. The scarf was shameless in that it wanted to be included in the picture in it's unblocked state. I apologize on behalf of the scarf.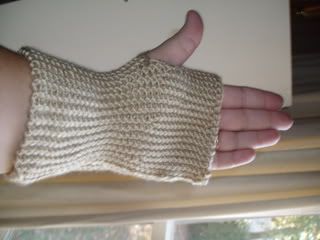 The shawl is a simple pattern I've seen it repeated in many places, or something similar so I just decided to cast on 60 stitches, knit in garter stitch and see how it goes. So far I am happy with the way it is going.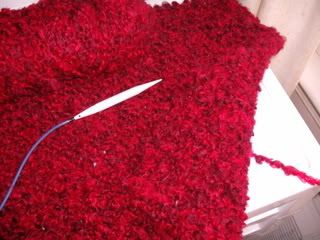 I have not used this yarn before and it is interesting to work with, a little difficult at first but once you get going it is easy enough, just have to remember to knit loosely or you will be fighting the thing the whole time. Because I have a tendency to knit tight, this is a conscious effort for me.
The yarn is Red Heart Light and Lofty, color 9376 wine. It is a super bulky yarn so I am using size 15 needles. I plan to have it done by the end of the week.
I have plans to start some wintery slipper socks as well.
Also, this weekend I have started and completed half of my Christmas shopping. I have several that need to be mailed so I made and effort to get those done so that they may be sent on their way the first week in December. I also, always buy my Aunt's gifts early so that I can give them to her at Thanksgiving when I see her. And this year my great aunt will be joining us so I have hers ready as well and will not have to ship it, which is good.
It is feeling more like fall today, yesterday it was 70! Yuk! Today it is 50F with the wind from the north so a little brisk. I love it. My yard is a blanket of orange and red after the rain this week knocked all the poor leaves right out of the trees!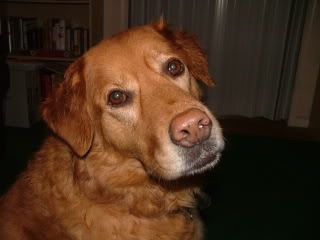 I have to tell you this is Molly's favorite time of the year, she likes to stay outside in the leaves with her tail over her nose and watch people walk past our yard. I let her enjoy it now because despite her desire to do this when it is even colder her I can't let her stay outside that long.
I hope everyone has had a lovely weekend and is getting in the holiday day spirit!