We spent a lot of time in my grandmothers kitchen when I was a child. She had a large kitchen with a sofa at one end, corner cabinet, table and chairs, in addition to the cooking area.
When you went to mammow's house you went in through the backdoor, there was even a doorbell for visitors. The front faced the water so the street and driveway were in the rear. So you walked right into the kitchen. At our house, it was much the same way, everyone came in through the back door which led straight into the kitchen. In my house our front door enters into the foyer and to the left is the kitchen, so most people come into the kitchen.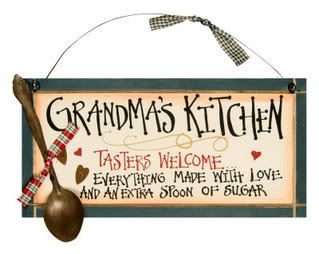 This weekend my hubby and I spent so much time in the kitchen it reminded us each of years past when we spent time in our grandmother's kitchens.
We spent two days canning tomatoes for the winter and some we added some of our hot peppers to a few chairs for chili sauce one day.
We also bought our first pressure cooker. i read about using one on a boat to reduce heat in the cabin and increase cooking time. I thought why not to that in my kitchen on land. So far we have made a tasty roast and some chicken.
If you are on the Gulf Coast, you are in our thoughts and prayers today.