Okay, maybe they aren't really attacking, but when my tomato plants finally decide to produce, all eight did so at one time, making it feel like we were under attack by ever ripening tomatoes! This week we are averaging 10 tomatoes a day.
So what does one do with all those tomatoes? Well I gave some to a friend who is without a garden this year and she often gives me fresh eggs from her hens.
And this weekend I tried canning for the first time.
It is something I never learned from my grandmother and I can't say I remember my mother canning at home, but those types of activities were usually done collectively at my grandmothers house anyway. My grandmothers sister and cousin, my mother and aunt with children in tow, would arrive on an appointed day for canning or at the holiday season a day of baking cookies. I remember tons and tons of cookies, being one of the children who was assigned the task of shelling pecans for cookies. At canning time the children shelled peas or snapped beans.
But I digress.
This canning idea of mine came on rather suddenly as the table began to overflow with tomatoes and I couldn't even give them away to neighbors (who have their own gardens).
I went to the store and bought some pint size jars with lids. I decided I would try only two to start with in case I completely botched the whole thing. I also referred to "Canning for Dummies" and also
About.com
for "How to" help.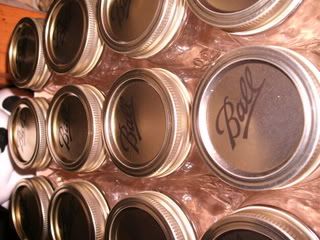 Both sources had slightly different information so I had to pick and choose what would work in my kitchen. I do not have a proper canning tub with rack so I had to improvise with a stock pot and a couple of wooden spoons. Luckily, you do not need a pressure cooker to can tomatoes.
Here is my version of canning tomatoes with just basic equipment.
I boiled water in a large pot and dropped in 10 tomatoes. When the skins blistered, I removed them and placed them in cold water to cool enough to touch so that the skins can be peeled away. Then I cored them.
Place them back in hot boiling water for five minutes.
While the tomatoes were cooking the hubby washed the jars and rings and readied to receive the tomatoes, by adding a tablespoon of lemon juice.
I used a newly purchased large mouth funnel, (worth the $3 investment for sure) and spooned the tomatoes into the jars.
Hubby then used the handle of a wooden spoon to stir them around in the jars to remove excess air. He then put the lids and rings on and we placed them in hot water.
I used a large stock pot for this part and placed the two jars inside, it is important they do not bounce around and bump into each other during this process or they could break or crack, not having a proper rack I wedged a wooden spoon across the pot to keep them separated, this work very well.
You should keep them at a low boil, just hot enough for bubbles, for 40 minutes.
When they are done, I placed them on a towel and also covered them with a towel so that they could cool slowly, this took all night. But I could get the lids popping and in the morning I had good seals on both.
The hubby and I repeated this process exactly for four more jars. It took 31 medium sized tomatoes to make 6 pints.
We have plenty more tomatoes that are still very green and some in the process of turning red so I see more canning in my future.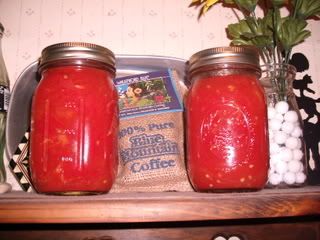 Consequently, not a lot of knitting going on this weekend.