Check out this tomato!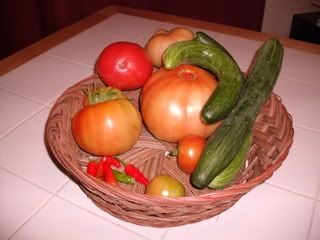 It came from our neighbors garden. Sadly they are on vacation and I am hoping it will last until they get home. They told us to help ourselves anything that ripens while they are gone but this is their first of the "big ones" and I hate that they may miss it.
Between their garden and ours we have a bountiful table.
I am researcing salsa recipes for all the tomatoes and peppers.
Yummy!
P.S. I got five more tomatoes today after work and three cucumbers. I'm thinking cucumber soup!