I have a brand new shiny toy! A 2008 Suzuki Boulevard S40! Oh I love it! I had an old '83 Suzuki 650GS and that thing was a clunker and a little difficult for someone as vertically challenged as myself to ride. But this new one, is sweet and the seat height is perfect! I was a little nervous about riding it home, because it has been at least a year since I sold my old bike and I have not done much riding since. But it took about five minutes and it was like I had been riding it everyday!
Here is a picture of the old bike "The beast"
It was a good first bike because frankly if can ride this you can ride anything. It was a seat height of 27 or 28 inches my feet never hit the ground flat it was top heavy and weighed about 500lbs.
Now the new bike, it is also a 650cc like the Beast but the packaging is so much better.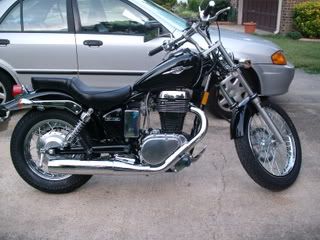 And a front view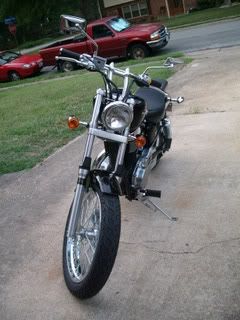 I have a few accessories planned for her, some saddle bags, a windshield, engine case guard and light visors. She is running a little rough right now, only had 7/10 of a mile on her when I picked her up tonight so she needs some breaking in. I'm thinking maybe a sissy bar on the back so I have something to strap the spinning wheel to! What do you think?
I need a name for her, any thoughts?
I'm thinking about a name that bike contest but I have to think of a good prize and right now I can't think of anything. So just any thoughts you have on the subject would be appreciated at this point. LOL.
Hey Knat, what do you think?
Happy Knitting Everyone!