My neighbors are on a little vacation this week and so I am tending their garden as well as mine. We both have several cucumber plants and one thing I enjoy about cucumber plants is the way they reach out and grab onto things as they grow.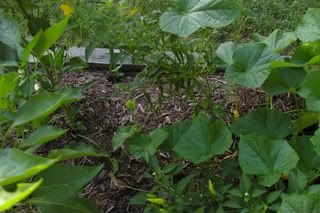 I don't know how well you can see it in this first picture, but it has reached over and wrapped itself around a hot pepper. I guess cucumbers like to spice things up once in a while. (Neighbors garden)
You can tell these photos were taken of my garden as I have the little fence around them to keep the girls out of there.
I haven't harvested any cucumbers from our vines yet. My neighbor has though. My hot peppers are quite prolific and I noticed one this morning was blushing at having her picture taken so early in the morning.
In knitting news, I am nearly finished with my scarf project. It is turning out nicely and I can't wait to block it. It is from my Weekend Knitting book by Melanie Falick, it is the lopi lace scarf. And the yarn I am using is Caron, the colorway is Bone. It is so smooshy soft.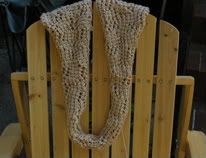 I haven't done any spinning yet this weekend, and I need to do some of that as well. I am in the middle of spinning up some coopworth and I have visions of loveliness in my head for that. I need to get it done because I have some silk and cotton I want to ply as well.
So much yarn so little time....