Yesterday the hubby and I visited a unique local shop. I've driven past it so many times without knowing the fun to be had inside. It looks like a nice little bistro and wine shop at first glance, but then once your greeted by the owners (two of the nicest people you will ever meet) you find out they make wine there as well AND... you can make your own if you wish! They have us a tour of the wine making facility, we had a little wine tasting and then decided we want to make our own, so they set us up. We mixed the ingredient into the fermentation bucket, stirred it, tested it and sealed it up. This week while we are going about our daily routine it will be fermenting and next Saturday we go back for the racking, transferring the wine from the fermentation bucket to the carboy. Then we have to wait for about 6 weeks for it to be ready for bottling. Then we get to have a little bottling party and bottle it ourselves, cork it, label it and shrink wrap it and take it home!
The owners took pictures of the process yesterday (I had forgotten my camera) but I don't have the pics yet.
Our neighbors recently returned from a cruise to Bermuda and brought us this....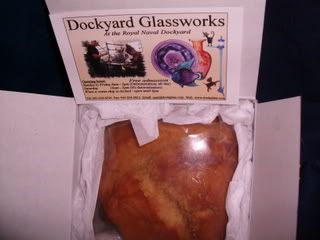 Yum!
The garden is green, but no other colors, I have tons of tomatoes but none of them have turned red, the peppers are green and I think just about ready to picking.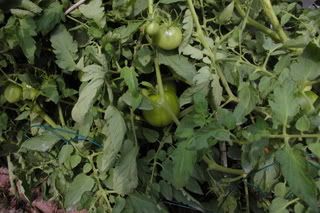 And then there is this, have you ever seen anything like this on a jasmine vine before?
There is this little bean plant growing next to it I wonder if there has been hanky panky in the garden.
In knitting news, I'm working on the petticoat socks and one more round to go and I will be ready to move on from leg to heal here.
Lily wants a pair for this winter. Actually she is the official quality control officer around here she must inspect any and everything that is baked, created, painted or built around here. She approves.