Molly agreed to pose for the Dogs on Thursday photo shoot this week.
We haven't had a horribly hot summer, but it has been hot enough and Molly was starting to look a little miserable. She wouldn't want to play outside and would run in and lay down in front of the fan.
So I decided a hair cut maybe in order to help her out a little.
Molly before....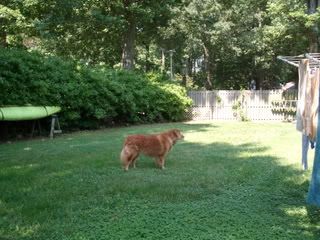 Molly after.....
now before you accuse me of having no clipping skills she looks a little mottled because a) I sprayed her off with the garden hose to get rid of any loose hairs before she went back in the house and b) she had a very Chow undercoat and it is while and orange and sticks out in all directions. It smooths out in a day or so. I didn't want to clip her too short because I don't want her to get sun burned either. She is much happier now and runs and plays in the back yard like her normal self.
But is still happy to lay in front of a cool fan when she comes in.
In knitting news, I am close to finishing my scarf and will need to decide on the next project. Any thoughts, I'd like to make an interesting hat to go with it something with YO's .
Happy Knitting.